Sale!
4-Hour Mangrove Tour
You Enjoy 30% Discount! The Price Is For 1 Boat (Max 10 pax/boat). We practise Open Ticket. All tickets are valid for one (1) year from the date of purchase. You can visit us anyday (within the 1 year) without prior notice.
Description
This package includes visits to:
River Cruise – Cruise along the beautiful Kilim river and enjoy the spectacular view of the mangrove forest and its stunning landscape.
Floating Fish Farm – The farm is located in a secluded cove, surrounded by high vertical limestones. See big seabass and groupers and the opportunity to hold the stingrays.
Eagle Watching – Watch eagles fly high in the sky and then dive down to scoop their meals on the water surface. Simply awesome.
Bats Cave – Watch bats on the cave's roof, spectacular stalactites, stalagmites, and fallen rock blocks among others.
Crocodile Cave – This cave is unique because it is actually a natural tunnel developed in the limestone by an underground stream that once flowed in this area during the low sea-level. Now the tunnel turns into a beautiful cave. The river flows right through the arched cave and at low tide, a small boat can navigate from one side through to the other.
Beach / Swimming – Visitors will be taken for a fun-filled swimming session at a secluded beach. Please bring along your swimming stuffs.
Fish Feeding – Let's headed to Dangli Island where plenty of colourful fishes waiting to be fed by you.
* NOTES:
THE PRICE IS FOR 1 BOAT WHICH CAN CARRY MAXIMUM 10 PERSONS PER BOAT.

TO ENJOY THE ELIGIBILITY OF THE DISCOUNTS OFFERED IN THIS WEBSITE, ALL PURCHASES MUST BE COMPLETED AT LEAST 4 HOURS PRIOR TO ARRIVING AT KILIM RIVER TOURIST JETTY COMPLEX.

WE PRACTISE OPEN TICKET. ALL TICKETS ARE VALID FOR ONE (1) YEAR FROM THE DATE OF PURCHASE. YOU CAN VISIT US ANYDAY (WITHIN THE 1 YEAR) WITHOUT PRIOR NOTICE.

FOR FURTHER INFORMATION, KINDLY VISIT OUR WEBSITE AT WWW.KILIMGEOFORESTPARK.COM .
AFTER YOU HAVE COMPLETED THE ORDER, KINDLY WHATSAPP US YOUR ORDER ID (WILL BE STATED IN YOUR EMAIL) AT +6011 6545 2323 FOR FASTER RESPONSE.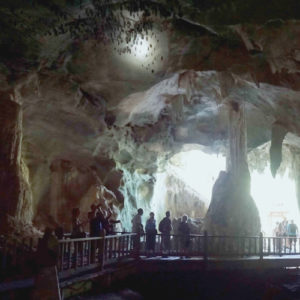 Only logged in customers who have purchased this product may leave a review.